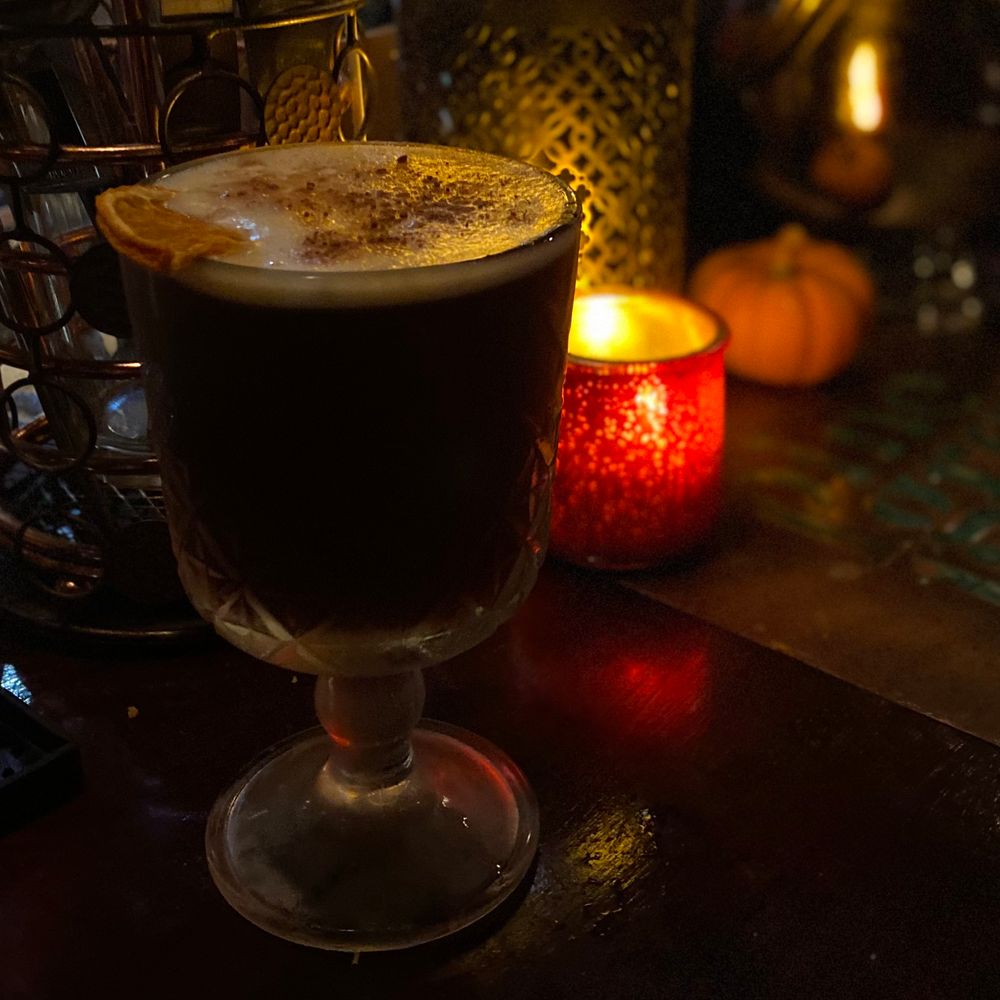 PGH MUMMY CAT
a Pine Grove Hall original
They say that Pine Grove Hall is haunted. For those of us in the trenches, we can say this: the PGH Mummy Cat is always wielding its otherworldly claws in the most unpredictable of ways! Kraken black spiced rum, amaro Alta Verde, dark crème-de-cacao and violet blossom cordial... shaken with egg-white and topped with General Washington' Porter by Yards.  (Limit 2 per visit.)
Our Monthly 1+1 feature: Lebanese Arak + Seltzer | 10  
For fans of Good & Plenty candies, we offer two simple ingredients: Gantous & Abou Raad Lebanese arak... plus club soda. Served over ice with a swath of lemon zest. 
Ampersand | from the Waldorf-Astoria Hotel, 1890s | 15 
Think of it as a three ingredient, equal-parts drink... or as a  modified Manhattan with a split base:  D'usse VSOP cognac, Barr Hill gin and bittersweet vermouth... stirred and served up.   
Chartreuse Martini | from... Martha Stewart? | 16 
There are very few instances where contemporary cocktailians agree that the name Martini can sustain a modifier.  Here, the  
addition of Chartreuse to the classic recipe can inform the other  ingredients, while still drinking like a classic Martini.  This  
version features Hayman's "Royal Dock" navy-strength gin, green Chartreuse herbal spirit, and Dolin French vermouth... stirred  
and served up with a twist of orange. (Limit 1 per visit.) 
Lion's Tail | a Prohibition-era classic | 14 
Pine Grove Hall's take on this 1930s classic features a split base of Bourbon and Irish whiskeys... shaken with fresh lime and  
Jamaican allspice cordial.  This cocktail is a great bridge between the culinary traditions of summer and winter.  
The Obermann | a Phyrst Family favorite | 9 
Resurrected and re-calibrated from scattered notes, pieced together from across the web. We now have confirmation that this was, indeed, the house shot from the golden days of the iconic State College dive bar, The Phyrst (c. 1993):  Jägermeister German amaro plus Big Spring whiskey-cream liqueur... chilled. (Limit 2 per visit.) 
The OKC | from Fuji & Jade Garden, StClg | 15 
High West Double Rye stirred with bittersweet vermouth and Ancho Reyes original chili liqueur. Stirred and served up, garnished with chipotle dust, flamed orange peel and fresh chili garnish. ¿Okay? ¡Sí! 
Sage-5 Clinger | from Little Donkey, Cambridge | 14 
Four Roses bourbon, fresh lemon sour, Amaro di Angostura, sage-leaf  simple... star anise garnish.  (Limit 1 per visit, while supplies last.) 
Stone Wall | our take on a colonial-era classic | 14  
Laird applejack brandy, Probitas aged rum, fresh cider and 814 hard cider... mixed with K.Schlegel Farm's spiced apple shrub.  
This Is Not a Love Song | with shakes + nods to Undercote, NYC | 15 
Sobieski vodka and St. George NOLA coffee liqueur... shaken with bittersweet amaro and a wee splash of VSOP brandy. Finished  
with dehydrated orange, caraway seed and Dr. Emilgirab's Teapot Bitters. Reads like a modified "Espresso-*ini" ... but is, most  
emphastically, not a love song! 
  
Well-worn Corduroy | inspired by PunchDrink | 15 
Fits like your favorite jeans or jacket on a crisp autumn day: Blended rums, spiced lime and grapefruit cordial... locally brewed Buddha cacao kombu-cha, Cynar Italian amaro and Wink's cinnamon tincture.