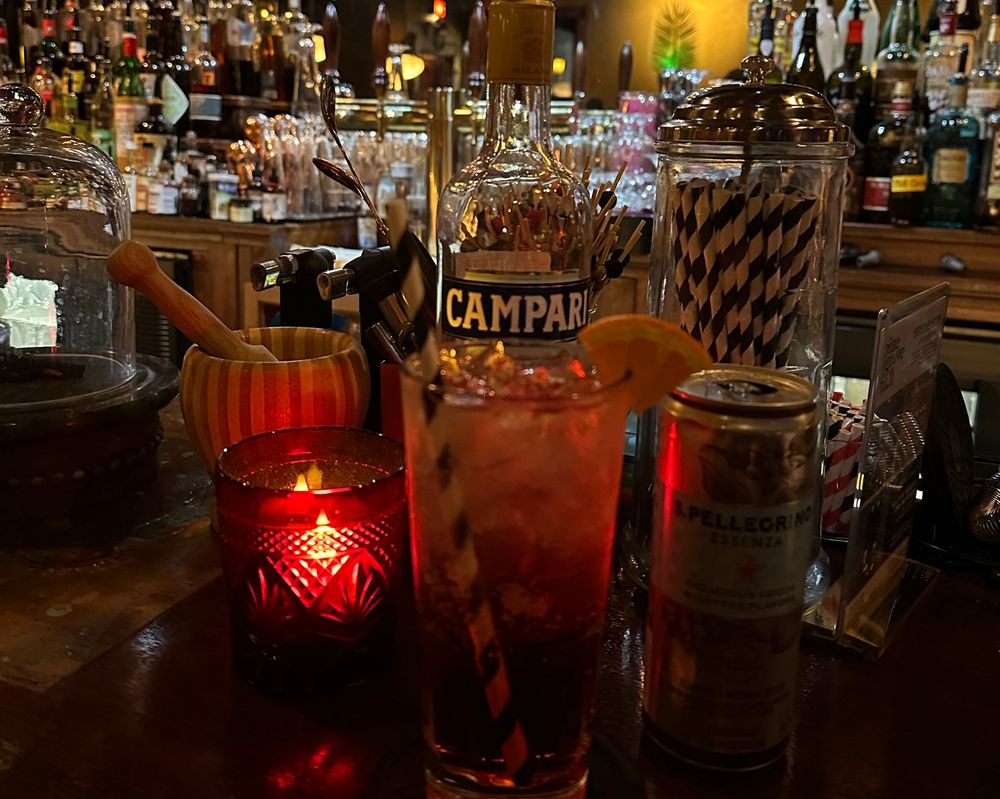 Our Monthly 1+1 Feature
The Archie Blue
Named for Centre County's late, great local performer Arthur Goldstein, The Archie Blue is made from two simple ingredients: Campari bitter-orange amaro + S.Pellagrino Essenza di Mocha coffee seltzer.  It is as equally bright and approachable as it is dark and brooding—much like Arthur himself.  We think you'll enjoy it as much as he is missed!
Barcelona Marge | by Sc'Eric Horner, StClg  
Tequila blanco, Licor 43 Spanish vanilla liqueur, OJ, Regan's orange bitters... fresh citrus wedge. 
Grey-75 | a Pine Grove Hall riff  
Drumshanbo "Gunpowder" Irish gin, Italicus bergamotto liqueur, Bonal gentian-quina, and crème-de-violette... topped with prosecco and a dash of grapefruit bitters. 
Hot Lips | adapted from NoMad, NYC 
Mezcal joven, green chili spirit, Licor 43 vanilla liqueur, pineapple-lemon sours... habanero bitters, salted rim.   
June Bug | a tropical classic  
Coconut-rum liqueur, banana and melon liqueurs, pineapple juice and fresh lime sours. (Limit 2 per customer) 
La Otra Rosita | by Sc'Eric Horner, StClg  
A tequila cocktail for lovers of the Manhattan:  Comisario and Tres Generaciónes tequilas blancos, Cocchi Rosa pink vermouth, grapefruit bitters, Burlesque bitters... smoked salt, cracked long-pepper, rosewater mist.     
Palmetto | adapted from The Savoy Cocktail Book, 1930  
A Manhattan-style cocktail prepared with a blend of dry rums—here, Dominican, Jamaican and Barbados—and layered vermouth. A few drops of tropical screw-pine water and Regan's orange bitters bring it together nicely.   
Pine Grove Sour No 1: Dandelion-Bourbon 
PGH's seasonal house recipe.  Heaven Hill bourbon, fresh lemon sours, rich simple, egg-white... Bellview Dandelion wine, dandelion-burdock bitters. (Limit 2 per customer)  
The Pink Room | a Pine Grove Hall original  
A split base of peated French whisky and smoky mezcal... stirred with Cocchi Rosa rosé-based vermouth and bitter-sweet orange amaro.  Served in a smoke-tainted glass, finished with nutmeg and "Bacon-Tobacco" bitters.  
Tetsu Old-fashioned | from Soba, Pgh  
Maker's Mark wheated bourbon, black sesame simple, black peppercorn tincture... flamed orange twist, sesame-nori furikake. 
Ume-Shiso Japanese Cocktail | inspired by Deep Dive, Seattle 
Suntory Haku rice vodka, Suntory Roku Japanese gin and dry sakè... mixed with dry vermouth and plum liqueur, then finished with umeboshi (salt-pickled plum) and dried red shiso.